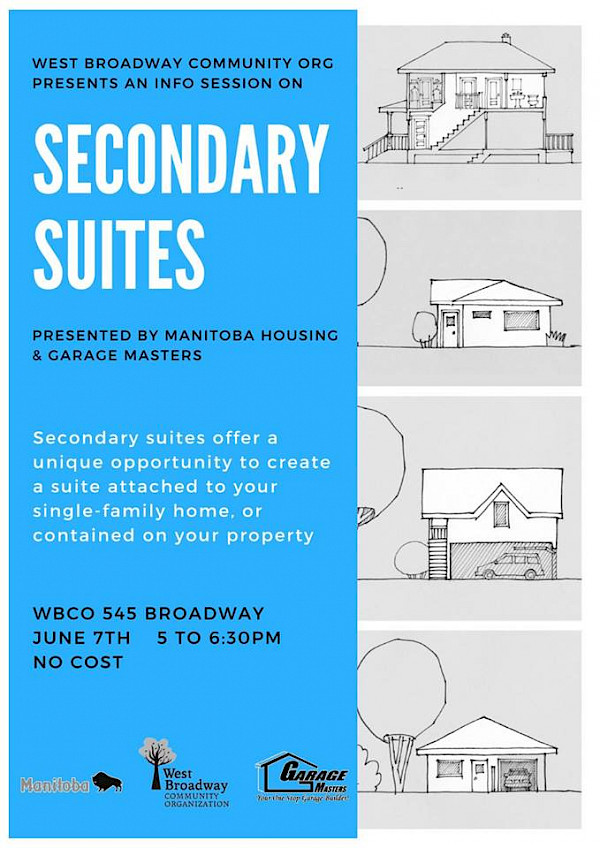 We are thrilled to be presenting this Thursday, June 7th, along with Manitoba Housing at West Brodway Community Organization's presentation on Secondary Suites.  If you've never heard before, secondary suites are rental suites that are attached to your single family home or property.  It is a secondary unit to an existing primary dwelling that contains its own entrance, kitchen, bathroom and living area.  Our Sales Consultant, Chris Loewen will be on-hand to present the option of 'granny suites' or suites that are built above the garage.  He will discuss the options available, how it is done and why you should be considering them for your home.
If you are considering building a new garage or remodeling an existing one, now is a good time to consider adding a granny suite.  Manitoba Housing has a Secondary Suite program that provides financial help to eligible homeowners for the construction of a secondary suite on their property?  The financial assistance is provided in the form of a forgiveable loan for 50% of the total construction and renovation costs, to a maximum of $35,000.
Learn all about the Secondary Suite program and converting your garage into a secondary dwelling at the free presentation this Thursday. A big thanks to West Broadway Community Organization for organizing.  Visit the Facebook event for more details.
Event Details
West Broadway Community Organization
545 Broadway - 2nd Floor Boardroom
Please use the backdoor entrance
5:00 - 6:30pm (Snacks & Refreshments provided)
Free event for all interested