When it comes to personalizing your garage space, there are many products that you can use to build the perfect organization system for your needs. Whether you want a workshop for your next project or extra storage for your sports gear, here are a few ideas to help you get started:
If you're a gardener…
Dedicate space in your garage for all your tools! Garden tools come in a variety of sizes so you will want a system that can accommodate long tools such as rakes and shovels to bigger items such as your wheelbarrow or leaf blower. A slatwall will help you keep many of the tools on the wall and off the ground to maximize storage space.
Single or double hooks will keep your shovels, spades, forks, pruners, etc. off the ground
Baskets can be used for smaller items such as garden gloves and hand tools
Shelves for bottles, sprayers, buckets and pails
Pro tip: Save space by keeping your ladder, stepladder and wheelbarrow on the wall as well!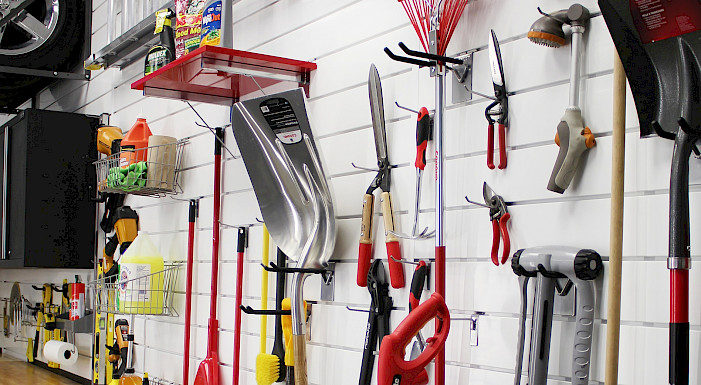 If you're handy with tools…
A workshop or workspace is a must! Start with a workbench and organize your tools accordingly around it for easy access.
Shelving beneath your workbench can be used with jars, bins and baskets
A pegboard with hook allows for easy access to your smaller tools such as hammers, pliers, scissors, staplers
A tool chest is another option for storing various tools
If you're a sports enthusiast…
Arrange your sports gear so that you can rotate according to the season. A slatwall will provide the versatility you need to stay organized throughout the year.
Wall-mounted or ceiling bike racks will keep bikes off the floor
Baskets, racks, hooks and shelves can help you keep similar equipment together
Long and narrow equipment such as ski poles, snowboards, snowshoes and fishing poles can be kept mounted or hung from the wall
Use baskets or bins to store smaller pieces of equipment such as gloves, balls, goggles, etc.
For inspiration on how you can customize your garage storage, visit our brand new show room at 975 Mission Street and speak to our team of consultants that can help you build your dream garage!