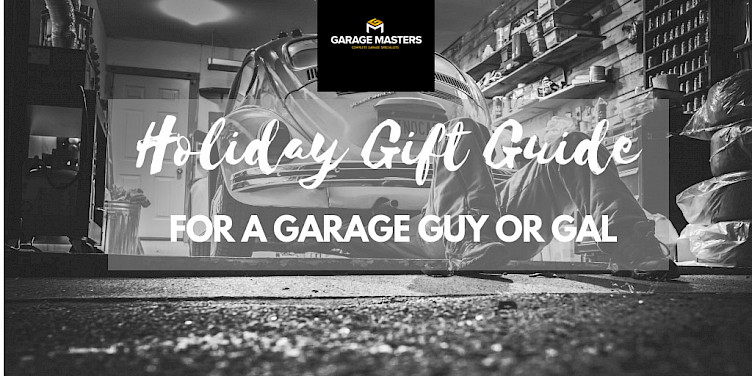 Everyone has someone in their life who loves to spend time in their garage, tinkering away and generally taking care of their stuff (and their garage).  If you are looking for some great gift ideas for the Garage Dwellers among your family and friends, Garage Masters has unique products for you. From single cabinets or racks to fit that hard-to-fit stuff in to complete garage organizers, we sell PVC slat wall mount systems and high-quality metal cabinetry and other components that work together to help keep your garage space clean and organized.
Wall System - These durable PVC slats are at the heart of the storage system we sell at Garage Masters, and tie all the other elements together.  If it's a first-time gift, this is the place to start. It's a stylish wall covering in its own right, and the functionality of the rest of the system really makes it shine.
Sports Kit - This unique solution uses the PVC wall slats to customize your storage to hold all the sports equipment currently lying in the corner of the garage, and make space for some more.  A must-have for the athletes (and parents of athletes) on your gift list!
Tool Organizer - Nothing is more frustrating than spending more time rounding up the tools than actually doing the job you need them for.  Tool Organization solution keeps tools visible for easy location and makes cleaning up after the job more satisfying than it should be.
Cabinets - Built to work with the wall mount system, these high quality 18- and 22-Gauge metal cabinets are available in a variety of colours, and look right at home in any garage or workshop.
Tool Chests - These tool chests are the ideal centrepiece for the garage.  Gone are the days of mismatched cabinets and broken down toolboxes.  Built of quality 18- and 22 gauge steel, these tool chests match the rest of the system in style, colour, and quality.
Garage Masters Floor Mats - These mats are made of high quality, durable anti-skid vinyl coated nylon. Keep liquids trapped and protect your garage floor with the 1" memory foam trim. This mat is mold, mildew and UV resistant. Rated for anything from -40° to +40° it is made for Winnipeg winters.
The Giveaway
We did promise you a giveaway - we're offering you a chance to win a $250 Garage Masters gift certificate to help you or your loved one on their way to an organized garage. All we need is your details! Simply enter your contact information - click here.