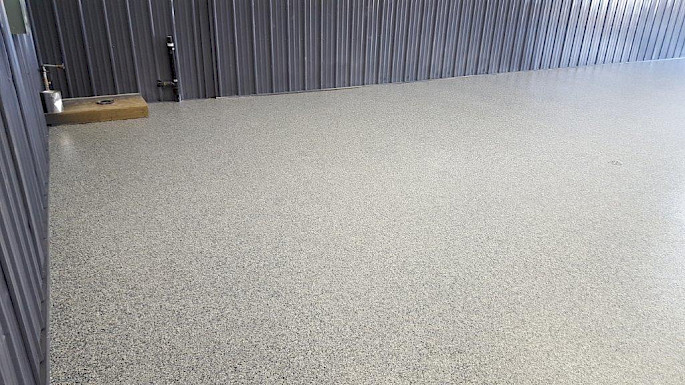 Many of our customers often wonder what the benefits are to choosing polyaspartic coatings over the more traditional epoxy coatings. While there are many pro's and con's to both products, polyaspartic coatings offer a finish that is much more durable and long lasting. 
Here are some facts to know about Polyaspartic Concrete Coatings.
What are polyaspartic concrete coatings?
Starting with the most obvious question, just what does polyaspartic mean?  Polyaspartic coatings are derived from aliphatic polyisocyanate reacting with polyaspartic ester. The resulting compound is called aliphatic polyurea, and it is quite different from other conventional polyureas.  Polyaspartic coatings were first introduced in the 1990's and used as a protective steel coating, offering protection against corrosion for bridges and other steel structures against harsh environments.
How are polyaspartic concrete coatings applied and how long does it take to dry?
Polyaspartic coatings are applied professionally, usually with a squeegee or roller and are extremely quick to dry - often within a few hours. This has been a major advantage over the traditional epoxy coatings since the latter is known to have long drying times. With polyaspartic coatings, installation can usually be completed in one day and you may even be able to walk on your new floors in 2 hours!
Will the coating materials smell during the installation?
Depending on which coating system you choose, there may be a smell during the installation process. Once the coatings dry however, there will be no odour whatsoever.  If odour during the installation process is a big concern for you, just let us know during the consultation.
How does polyaspartic coatings compare to epoxy coatings?
Polyaspartic coatings are known to be even more durable than epoxy coatings. Based on test data, we know that polyaspartic coatings offer more stain and scratch resistence than epoxy.  Another advantage is that polyaspartic coatings are UV stable whereas epoxy coatings tend to fade from UV exposure. 
With polyaspartic coatings, we also have the added advantage of being able to apply in cold temperatures and a variety of weather conditions whereas epoxy cannot be applied when the temperatures is below freezing!
Polyaspartic concrete coatings are extremely durable and versatile. If you are considering installing a flooring coating to your garage, consider choosing a polyaspartic coating system instead.  Over the next few weeks, we will be talking more about the various aspects of this product so check back often for more information.  In the meantime, if you would like to speak to someone regarding garage flooring or any aspect of your garage, contact us through our online form here.