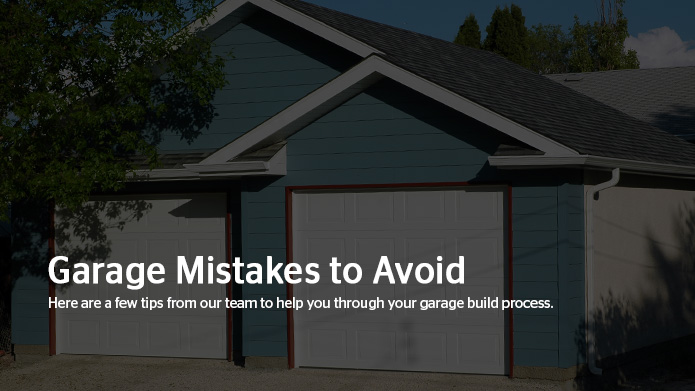 For most home owners, a reliable & safe place to park/store their vehicles is a necessity. Building a garage is a very common project for many home owners, especially for those who have purchased a home without an existing place to park their vehicle. While garages are generally relativley simple structures, planning & building them isn't without some potential errors. This is why it is very important to consult with an experienced, professional company that is well versed on building garages. In this post we will cover the most common mistakes made while planning & constructing a garage.
Ignoring Home Design: While your garage does not have to look exactly like your house, it always looks better when both structures compliment each other. Many home owners fail to address their home design when constructing a garage, often leading to disappointment, questioning gazes, and lower resale value when trying to sell property in the future.
 
Failure to Plan for Future Usage: When building a garage, your vehicles are a natural way to determine how large the structure needs to be. In some cases a home owner will build a garage to accomodate the number of cars they currently own, not considering how their need for more space/vehicles will grow or diminish. Ideally your garage should accommodate your household for years into the future. Of course this is not an exact science, but some educated guesses will help you save money. It is often more expensive to add on to an exsisting garage, than it is to just build a larger garage in the 1st place.
 
Failure to Utilize Available Space: Many home owners make the mistake of using their garage soley for vehicle storage. While this is generally the main purpose of a garage, many structures have an abundance of unused space. Many people have hobbies or jobs that would benefit from a dedicated work space. When thinking about constructing a new garage, consider creating a space for you to do your work in the garage. You can turn a portion of it, or the whole structure into an art studio, massage room, office space, mechanic shop, salon, etc. Storage can also be extremely useful. Installing a cabinet system or handiwall product is a great way to utilize your space and store items that won't be hurt by extreme temperatures. In order to get the most out of your investment, it only makes sense to use all the space available. Garage Masters has a number of different cabinet & other storage options.
 
Ignoring Building Codes: Building & Demo Permits are required for the construction or tear down of any structure. Do not make the mistake of forgetting to obtain a permit. Lucky for you, if you choose Garage Masters for your garage project, we will take care of all of that for you. If a structure is built without a permit, the owner will be subject to heavy fines. Also the city has the option in most cases, of requiring you to tear it down or make the neccessary changes to bring the structure up to code. In addition your insurance company may refuse to cover a structure that is built without a proper permit.
 
Qualify the Property/Building Location: When determining a suitable location to build your garage there are dozens of issues that one must consider. Some of which include city zoning requirements, overhead & underground lines, elevations, tree removal, demolition & excavating, permits & environmental issues. The list goes on, and is the reason that in most cases a home owner should strongly consider utilizing the experience of a professional and experienced builder such as Garage Masters. On site consultation & qualification is free but deciding to build without considering these issues could prove very costly.
 
Finding the Right Contractor for the Job: It is very important to find the right contractor for the job. Find a company that will provide you with a free on site estimate, without obligation. Also make sure that you find a company that will guarantee their quote right down to the very penny once the contract has been signed. Always make sure you research contractor credentials, references, & photo galleries of completed projects online. Always hire an honest & reputable contractor to help you with your Garage construction, as well as make sure the are accredited by the Better Business Bureau. That way you know they are credible and are going to be held accountable.
Remember that even if building a garage seems like a simple project, there are always things that you may not have remembered to consider. It is not always as simple as 1,2,3 and often worth considering having a professional take on your project, rather than taking it all on yourself. Don't let the stress and hassle get to you, and take advantage of the advice and experience a professional contractor such as Garage Masters has to offer. We have been in the business 20+ years and always look forward to working with you.