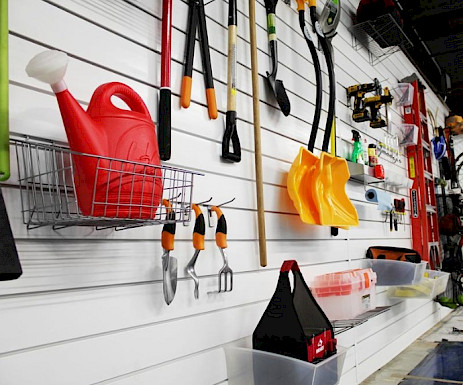 What we consider a 5-star garage is one that is functional both inside and out! Aside from your cars, your garage must also serve as storage space for your tools, bikes, sports gear, yard equipment, garden tools and more! Because of this, the garage can quickly become disorganized and cluttered.
If you're ready to bring some order to the chaos, here are some tips to help you keep your space tidy and functional through the seasons.
Determine what is in your garage
We know just how tedious this task can be, but it is important to know just what you're using the space for. Go through the items in your garage and group them into categories. For example, you might notice these categories of items:
Garden tools
Workshop and tools
Yard equipment such as lawn mowers and snow blowers
Seasonal items such as your Christmas tree and decorations
Garbage and recycling bins
Bikes and sports gear
Furniture
Car accessories
Divide up your space and start planning!
Next, draw up a plan of how you want your garage to be organized. Designate space for each category and take account of what you will need easy access to (things you will need year-round vs your seasonal items). You will also need to leave floor space for your bigger items such as your lawn mower, snow blower, furniture, freezers, etc. Lastly, be sure to leave room to accommodate your future storage needs.
Did you know that all the surfaces in your garage can be used for storage? With a smart garage storage system such as the Proslat garage storage solution, your ceilings, floors and walls can all be used for storage and organization. With the Proslat slatwall, you can customize your garage to your needs with:
Hooks
Baskets
Shelves
Bins
Lifts
Hoists
Cabinets
Don't feel like you have to take this on all by yourself. You can of course, but at Garage Masters, we have professionals that can help you plan out your garage and install a system that works for your space and needs. If you are looking for ideas, you can always pop by our showroom to see what options are available.  A little inspiration can go a long way!